Free Shipping
All orders will be delivered to your home for free.
24 Month warranty
All watches come with 24 Month warranty.
Award winning design
Winners of the 2022 Scandinavian Design Awards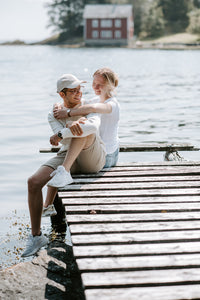 History
The Nordvik Name
Nordvik is named after a family owned farm placed on Rott, an island outside of the western Norwegian coast. This farm has a special place in our heart. It's where you go to disconnect with the world, and connect with yourself. A place you go to relax and get inspired. With a raw Scandinavian landscape and beautiful ocean views at every corner, Rott is the perfect place to represent Nordvik Watches.
Read more
Reviews
Perfect !
my son bought the northern as a gift for me and had it delivered to me here in the United Kingdom. The watch is a delight- good looking, unobtrusive, and sits comfortably on the wrist.
Perfect gift
Very classy watch. Can't wait to give it as a present to my boyfriend
Perfekte klokken
Fin klokke og super kundeservice
Annette P.
/ Verified Owner
ECO ESSENTIALS
Quality &
Sustainability
Our watches are built with only the finest materials. With its surgical grade stainless steel and scratch resistant sapphire glass, it can survive the test of time without a scratch.
By using recyclable materials, ensure fair working conditions and a net positive environmental impact, we believe we can make a positive impact on a more sustainable future.
Read more

38MM - SAPPHIRE GLASS - 316L
The Polar Collection
JOIN THE NORDVIK FAMILY
Get the latest news, invites, and offers straight to your mail.
We promise we won't spam you!